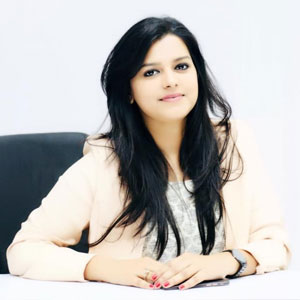 Mrs. Trishya Hajare
Director
Dear Parents,
Welcome to MMI, Nerul!
You may ask what makes MMI so special. MMI is a nurturing community of teachers, staff, parents and children — a family committed to creating a safe and meaningful early childhood experience. Our philosophy is simple – to instil and celebrate a life-long love of learning.
At MMI, Nerul, the teachers aim to participate throughout the growth of the children, starting from the moment they register at the school. By applying over hundred-year-old principles taught by Maria Montessori, our teachers are able to assist the children in their cognitive, physical, and social-emotional development. We truly honour Montessori's more than fifty years of research through observation, by keeping three hours of uninterrupted observation at one time for preschoolers and two hours for toddlers. As a result, the children can experience the specialness of MMI and complete the curriculum while developing concentration. This is only one aspect of providing quality Montessori education.
Being a qualified Montessori-trained teacher myself, I can strongly say that Montessori is all about developing the child's unified personality. This means it not only develops the intellect but also the spirit of the child. The spirit of the child is nourished by giving freedom within limits and treating the child with respect. In preparing the environment, we make sure our spaces — including four classrooms, sleeping rooms, large physical activity room, outdoor play space, and learning gardens — inspire exploration and learning. Of course, a prepared environment is not complete without the teachers who guide the children. We believe in pampering and appreciating our teachers on a daily basis as they are the ones who take care of our most precious ones.
I'm very proud of the school we have created. It not only proves the importance of Montessori but also the importance of quality Montessori education. Thank you for your interest in our school. And remember, everything you do when you come in contact with the child is education.
We hope to work in partnership with you in providing your child with a solid foundation for future learning and discovery.
Optimistically,
Trishya Hajare, Director